Acupuncture Massage Pen
Regular price
$29.99 USD
Sale price
$23.99 USD
Unit price
per
Sale
Sold out
Electric Acupuncture Therapy Healing Massage Pen
SAVE MONEY ON VISITS TO THE THERAPIST TODAY!
✔Provides needleless and painless acupuncture stimulation for safe pain therapy
✔ Effective pain relief: shoulder, back, elbow, knee, ankle, nerves, muscle pain, tennis elbow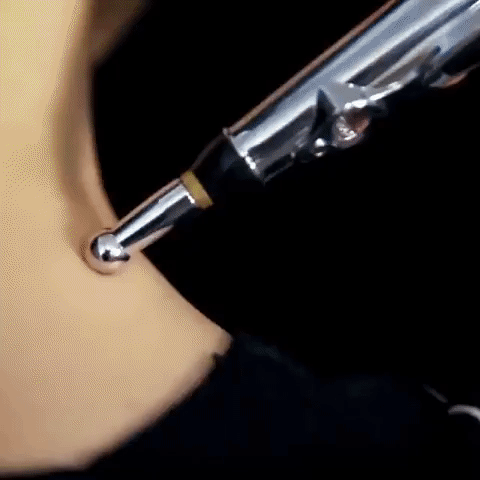 ✔ Great treatment for arthritis, rheumatism, osteoporosis, sciatica, spondylitis, fibromyalgia
✔
Light and Portable- Easy use every time and everywhere. 
Function of Acupuncture Pen 


1.Health care function: The probestimulates the skin ,you will have a sense of sliding and acupuncture.put the machine to the relevant point,then the feeling will be stronger.A kind of relaxed and comfortable feeling will come to you after you use the machine.the pen electrophysiologically stimulate our body, through the network ofbio-axis,directly into the body tissues, organs, regulating bio-electric field, activate radicals and the adjustment of biological cells, essentially regulate the body's absorption, conduction, balance, metabolism, immune functions, and health care.

2. Meridian function: The joints plays an important role as crossroads to human body,it is the places where physiological waste like cold, wet, silt, heat, toxic bad things block.That is also the reason why human body easily get arthralgia. When using acupuncture pen in the joints,the physiological waste can be cleaned up,then you can feel fresh and relax.

3. Beauty care effect: The meridian energy pen can also do the face like face-lift, remove the pouch, dark circles and wrinkle, making an immediate affect to the face.The pen can also make you forever young and healthy if you keep using it. (better with professional cosmetics) If not, you can use normal saline or distilled water instead. For a professional facial and eye care,you will have to match professional beauty products.
Q&A
Q1: What do I get?
Ans: Meridian Energy Pen with 3 different heads(Node type, Spheroidal Type and, Dome Type) and a User Manual pinpointing major acupuncture points to massage.

Q2: How to charge it?
Ans: The Pen uses 1 * AA battery (not included).
Q3: Can I use it on my face?
Ans: Yes. It works for your whole body. Different heads can be swapped for different areas of the body.
(Detailed instructions will be show on the User Manual.)
Share